PBX-1U kit works with IMI45 embedded Mini-itx ATOM motherboard and designed for Small & Medium
Businesses. System developers can run most of the production version PBX software including asterisk in this kit. It can also simplify the installation procedure and thus, no more complicated migration work needed.

Technical Specifications:

CPU: Intel Atom D2550 1.86GHz
DRAM: 2GB DDR2 SDRAM
SSD :32G
44pin PATA connector for 2.5" Notebook Hard Drive
1 SATA slot for 2.5" Notebook SATA Hard Drive (with DC12V Power in)
Power: 20PIN ATX power supply
Three front panel LEDs, for 3 programmable GPO status indicator
Push button: For mode setting switch, Accessing a programmable GPI, Active low means switch is pressed
Expansion: 1 PCI slot, fixed and individual interrupt


Connectivity:

1 PCI-E 10/100/1000Mbps Ethernet controller ( rlt8111c)
1 PCI-E 10/100Mbs Ethernet controllers(rtl8103e)
IMI45 is configured with the above 2 Ethernet Channels.
I/O: 1*DB9 serial port, for debug console usage,
Rack Mountable

Key Features:

80 Concurrent calls
Up to 1000 registers
Full Feature IP PBX
Video Calls
Recording
DID(Direct Inward Dialing Number)
Support SKYPE for SIP
Call Monitoring
Basic Features:

Codec: G.711-Ulaw,G.711-Alaw,G.726,G.729,GSM,SPEEX,H.261,H.263,H.263+,H.264
Call Hold/Forward/Transfer/Waiting/Parking
Call Paging and Intercom
Caller ID
Music On Hold
DISA(Direct Inward System Access)
Flexible Dial Plan
Ring Group
Conference Room
Call Logs
BLF(Busy Lamp Field)
Configuration By web
Built-in SIP/IAX2 server
Build-in voice mail server
System Backup and Restore
Echo Cancelation/VAD
Support Static/DHCP/PPPOE
DDNS Client(Support Dyndns.org)
Support NTP(Network Time Protocol)

Size and Weight:

Size: 4.5x45x28.2 cm
G.W.:5kg
N.W.:3.5kg

Asterisk Telephony Card :

TDM410P: PCI FXO/FXS card with 4 ports

Target Softwares:

Asterisk , Elastix, trixbox, PBX in a flash, mISDN, ISDN4BSD, m0n0wall, pfSense, FreeBSD, Askozia, Voyage-linux, AstBoxLinux
Default Software : Elastix2.
- Under Elastix (2FXO+2FXS):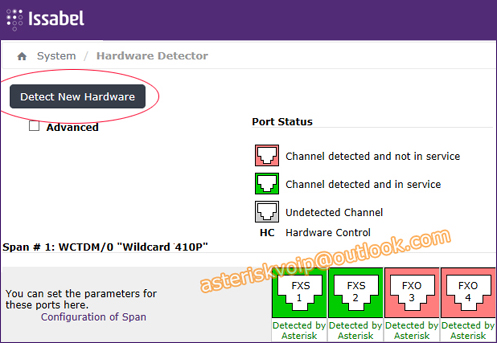 [ChinaRoby.localdomain ~]# dahdi_genconf
[ChinaRoby.localdomain ~]# dahdi_cfg -vvvv
DAHDI Tools Version - 2.2.0
DAHDI Version: 2.2.0
Echo Canceller(s): MG2
Configuration
======================
Channel map:
Channel 01: FXS Kewlstart (Default) (Echo Canceler: mg2) (Slaves: 01)
Channel 02: FXS Kewlstart (Default) (Echo Canceler: mg2) (Slaves: 02)
Channel 03: FXO Kewlstart (Default) (Echo Canceler: mg2) (Slaves: 03)
Channel 04: FXO Kewlstart (Default) (Echo Canceler: mg2) (Slaves: 04)
[ChinaRoby.localdomain ~]# asterisk -vvr
ChinaRoby*CLI> dahdi show channels
Chan Extension Context Language MOH Interpret Blocked State
pseudo default en default In Service
1 from -pstn en default In Service
2 from-pstn en default In Service
3 from-internal en default In Service
4 from-internal en default In Service


See also
IP PBX ( Elastix Server )




Model No.

E1 / T1 / J1 ports


FXS/FXO ports


RJ45 Ports

Software

Size

Buy

4

0

2

Elastix2.x

1U Rack Mount PBX

1

0

2

Elastix2.x

1U Rack Mount PBX

0

8

2

Elastix2.x

1U Rack Mount PBX

0

4

2

Elastix2.x

1U Rack Mount PBX

4

0

2

Elastix2.x

Mini PBX

1

0

2

Elastix2.x

Mini PBX

0

8

2

Elastix2.x

Mini PBX

0

4

2

Elastix2.x

Mini PBX